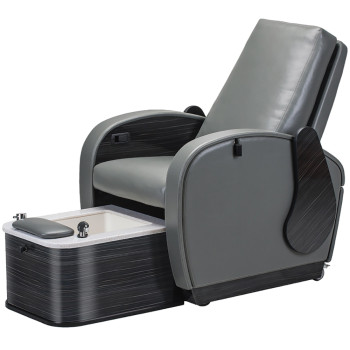 Club Chair V2
The Club Chair V2 is an inviting, luxurious armchair that beckons the guest to relax. An easy nudge of the chair reveals the hidden pedicure bath trimmed with elegant Avonite™ and matching water-resistant laminate. Carefully engineered for exceptional ergonomics, the Club Chair V2 with SaniJet® is packed with practical features including a hand sprayer, commercial grade remote drain and adjustable footrest. The Club Chair V2 offers the ultimate blend of luxury, function, and aesthetic design. Shown in upgraded Promessa Shale Upholstery, Madagascar Laminate, Pearl Avonite, with Swingaway manicure trays and tilt option.
Key Features:
• Small, well-designed footprint
• Strata™ Plus memory foam cushioning
• Premium, water-resistant laminate finish
• Locking wheels for ease of movement
• Softseat™ design for exceptional comfort
Optional Features:
• Tilt Back
• Swingaway Manicure Trays
• Center Manicure Tray
• Matching Footrest or Ottoman
• Variety of custom finishes
• Promessa and UltraLeather Upholstery
Chair Dimensions:
• Height: 47" (119 cm)
• Width: 32" (81 cm)
• Depth: 38.5" (98 cm)
Plumbed Tub Dimensions:
• Height: 15.5" (39 cm)
• Width: 22" (56 cm)
• Depth: 26.5" (67 cm)
• Footrest Height Range: 16"- 22" (41 cm – 56 cm)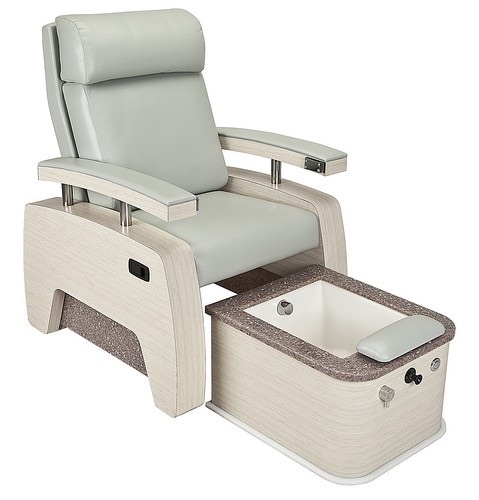 5th Avenue
The 5th Avenue PediLounge™ offers a fresh alternative to bulky traditional pedicure thrones. With the small footprint of a well-appointed manicure chair, the 5th Avenue PediLounge™ slides smoothly back to convert into the finest pedicure system available. LEC's master craftsmen hand-upholster this revolutionary, space-saving chair with generous layers of Strata™ Plus memory foam cushioning. A tilting back and ergonomic seating will leave clients in a state of pure bliss.
5th Avenue Chair:
• Hidden Plumbed Footbath with Avonite™ Trim
• Reclining Back for Comfort*
• Strata™ Plus Memory Foam Cushioning
• Premium, Water-Resistant Laminate Finish
• Ultraleather or Promessa Upholstery
• Variety of color options and finish options (including Avonite™ and Wilsonart™ finishes)
Options:
• Sanijet® plumbed hydrotherapy tub
• Non-jetted plumbed footbath
• TuckAway™ copper or silver bowl foot bath
• Relaxor® heat & massage system
• Swingaway manicure trays
• Center manicure tray (requires Swingaway manicure trays)
• Matching pedi stool
• Matching pedi trolley
• Matching ottoman
Chair Specifications:
• Height: 48" (122 cm)
• Width: 32" (81 cm)
• Depth: 36.75" (93 cm)
SaniJet® Tub Specifications:
• Height: 15.5" (39 cm)
• Width: 22" (56 cm)
• Depth: 26.5" (67 cm)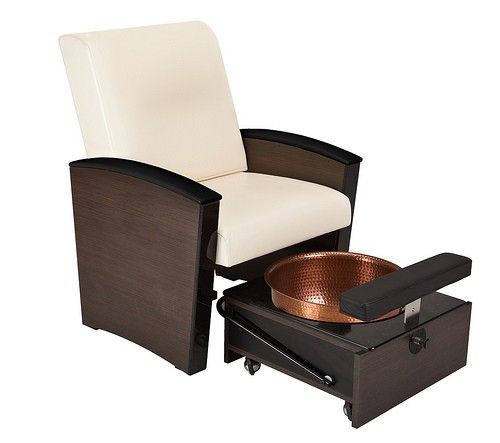 Mystia
The Mystia™ is designed to indulge clients in complete relaxation while providing practitioners with impeccable quality. A TuckAway™ foot rest and TuckAway™ footbath with a hammered copper or silver bowl provide convenience and add aesthetic beauty to this innovative design. The Mystia™ offers the ultimate in comfort with the company's now-famous Strata™ memory foam cushioning system. Shown in Coffee Bean Linear Laminate, Vanilla Cream Natursoft Upholstery and Starshine Avonite (down front of chair).
Key Features:
• Convenient, Innovative Design
• Strata™ 4″ Memory Foam Cushioning System
• TuckAway™ Footrest and Footbath with Hammered Copper or Silver Bowl
• Variety of finish and upholstery (Natursoft) options
Options:
• SwingAway Side Trays
• Manicure Center Tray (requires Swingaway tray)
• 7" Footrest or Ottoman (for use during manicure)
• Tilt Option
• Submersible Pump (used with TuckAway™ Footbath)
• Discharge pump (for wall plumbing)
• Relaxor
Specifications:
• Overall: 31″ W x 32″ D x 44″ H
• Seat: 24″ W
• Opening for Tuckaway™: 24″ W x 16″ H x 25″ D
• Tuckaway™: 21" W x 13.5" x 24" D
• Copper or Silver Bowl: 19" wide top rim; 13.75" wide base x 7.5"D